BEST OF 2019 - Destination + Colorado Wedding + Engagement Photography
BEST OF 2019
CALLIE RIESLING PHOTOGRAPHY
COLORADO WEDDING PHOTOGRAPHER + DESTINATION WEDDING PHOTOGRAPHER
This year I traveled 21,921 miles (JUST) for my clients. That means I traveled almost the entire circumference of the planet for these photos.
This was an absolutely awesome year both personally and business wise. When I was looking for all these behind the scenes photos, I actually found a video back from September (I don't think it ever got posted) but basically I was just talking about how different this year was for me. I always have such amazing clients, I really do. Only a handful of weirdos over the years. But in all seriousness, over the last 10 years I really have worked with the best people. I am so grateful for that. But there was something about 2019. It really was different. I have always been treated well, but this year I was treated like family. When I walked into Mallory's bridal room in August, all her bridesmaids already knew who I was. At most of my weddings, family members knew me by name and greeted me with hugs. Emily and Phil's wedding day I was so incredibly loved and even had my cheeks pinched and a huge hug from her grandma. All my clients were up for anything.... Jumping in a pool, letting me fly my drone, flying me in. All of it. And it was incredible. I just can't thank each and every one of you enough. Wedding clients, engagement clients, maternity clients, family clients. All of our loyal followers. All of the amazing vendors and venues we worked with this year. 2019 is the year to beat. And I am so thankful I will be seeing some of my couples for 2020 weddings for family members or bridal party they referred, maternity photos, and just getting together. Truly so many lifetime friendships made this year. PLUS, we kinda had a bucket list year as far as activities go... I did a wedding in Ireland, I flew a plane, I traveled a bunch with my family, I drove cross country (24+ hours straight through when my flight was cancelled) to make it to our DC wedding in time. I did an engagement session in two different states. I had my highest paid wedding in 10 years. I did an awesome session in St Kitts with my drone. I did some crazy marathon weekends. I was interviewed as a business owner for two great publications, I kicked some butt with some great contest entries, I added another consecutive year to my BEST OF THE KNOT winnings.... all while being a wife and momma. 2019 was incredible. 2020 will be even better.
Thanks again for continuing to follow me and care about my life and work.
You guys are the best. I am not really going to add too much personally to this post,
because then it would be a novel, not a blog. <3
Thanks again for looking through! We hope you enjoyed it!
We cannot wait to see what this year brings! <3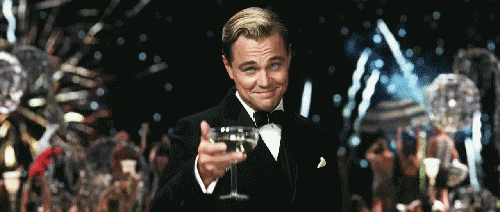 HAPPY NEW YEAR! (thanks to the internet for this awesome .gif - not mine)